Ocean Kayaks Trident Ultra 4.3

| | |
| --- | --- |
| Comfort | 8.5 |
| Durability | 10 |
| Portage | 8.5 |
| Speed | 9 |
| Stability | 7 |

Ocean Kayaks Trident Ultra 4.3
More Information
---
Popular Gear & Accessories Posts
---
Find a Kayak Store Near You Carries the Brand You Want

---
MSRP $1499.99
Used Price Range - $ - $1275
First introduced 'down under', the Trident Ultra series was crafted in collaboration with pro kayak anglers from around the world. Fast and nimble the Ultra 4.3 can handle ocean swells and glide through calm waters with surprising speed. Based on the Trident Ultra 4.7 this shorter sibling is loaded with even more innovative features making it the new benchmark for fishing kayaks.
Ocean Kayaks Trident Ultra 4.3 Videos
The provided API key has an IP address restriction. The originating IP address of the call (208.109.60.1) violates this restriction.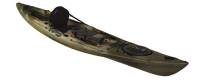 Ocean Kayaks Trident Ultra 4.3 Review
First introduced 'down under', the Trident Ultra series was crafted in collaboration with pro kayak anglers from around the world. Fast and nimble the Ultra 4.3 can handle ocean swells and glide through calm waters with surprising speed. Based on the Trident Ultra 4.7 this shorter sibling is loaded with even more innovative features making […]
Specifications
Specification:
Ocean Kayaks Trident Ultra 4.3
| | |
| --- | --- |
| Best Use | Inshore, Lakes, Rivers |
| Hull Type | Rotomold |
| Kayak Type | Sit on Top |
| Length (Ft-In) | 14' 1' |
| Max Capacity (lbs) | 350 |
| Width (inches) | 29.1 |
| Seats | 1 |
| Weight (lbs) | 68 |
| MSRP ($) | 1499.99 |