Reviews, Videos, Price Comparisons & More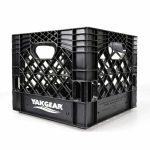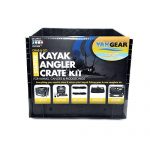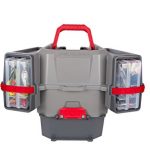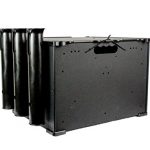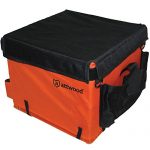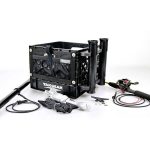 Why do they call them kayak crates and not kayak boxes?
I started with a milk crate and pvc and now have a BlackPak. I've tried to minimize and go fishing without my crate but it doesn't make fishing any easier. With everything in one crate, it's only one trip from the truck to the yak to bring all my tackle, etc.
How important is a kayak crate to you?
10
PROS
A lot of types, sizes and styles to choose from
Relatively inexpensive
Keep your stuff together
Holds your fishing rods
CONS
Without a lid your stuff can fall out
Some are too big for the back of the kayak
Add your review
Kayak fishing crates come in a few shapes and sizes. The most common is the simple milk crate with a few pieces of pvc for rod holders attached with zip ties. I is probably why we call them crates instead of boxes, regardless of the shape, size and what it looks like.
Once you have your crate you will want to bungee it down. Rod holders make this a simple task otherwise you can add a few bungee lashings.
You can make your own kayak crate for a few bucks or go all out and buy one for over $100. It doesn't matter, a good home-made kayak crate is just as impressive as those 'store bought' ones. They both solve the same problem, holding tackle boxes, leader line, bug spray, sun tan lotion, radio and anything else you can fit in there.
Making your own kayak crate is pretty simple. You need a milk crate (Walmart has them for around $3.00 when they are on sale), 4 feet of 1 ¼ PVC pipe and some zip ties. Cut the pipe into 12" pieces, clean the edges, zip tie them to the crate and you're set to go. You can do one more and cut a 12" piece of pool noodle in half lengthwise and zip tie it to the bottom of your crate so it sits an inch or so off the bottom of the kayak deck helping to keep our stuff dry.
If you want to get fancy, you can get a bottle, heat up the end of the pvc and give your rod holder some flare. You can also buy rod holders too.
On the other end of the spectrum are YakAttack's BlackPak and Hobie's H-Crate. These crates do two things really well, they hold your stuff and they look good doing it. Both are excellent choices and make great gifts for the kayak fisherman in your family. (HINT) One thing to be aware of is that both are a little large and may not fit in all kayak rear decks. Be sure to measure where you want your crate to go before buying one.
Below are several videos from YouTube going over the in's and out's of kayak crates and how to make them. 
We assembled some Kayak Crates that are available online to help you comparison shop. Our Deal Finder will search through multiple online stores including Amazon, Walmart, Ebay, West Marine, Academy, Gander Outdoors and more!.