Product is rated as #7 in category Ascend
| | |
| --- | --- |
| Comfort | 7 |
| Durability | 8 |
| Portage | 10 |
| Speed | 8 |
| Stability | 7 |
More Information
The redesigned A10 Sit-In Kayak delivers increased performance out on the water at an improved value. Designed to meet the needs of all kayakers at an affordable price, the A10 starts with an advanced tunnel hull design for maximum stability and ease of paddling. The upgraded Removable Seating system delivers all day comfort on the water along with the option of using the seat on land. The large open cockpit gives you greater flexibility in cargo management as well as offering easy entry and exit at the shore with little restriction of movement out on the water. The bungee system in the stern allows you to store and access a cooler up to 36 quarts in size.
---
Popular Gear & Accessories Posts
---
---
Find a Kayak Store Near You Carries the Brand You Want

---
This kayak is no longer manufactured and is only available on the used market. If you want to buy a used A10 you can search online using Craigslist, Facebook Marketplace, and Ebay or phone apps such as Letgo or Offerup.
If you have owned a A10, please leave a star review along with your pros and cons.
MSRP $299
Used prices are generally 20% below MSRP
Ascend Fishing Kayaks A10 Videos
Click

In Video Below For MoreAscend Fishing Kayaks A10 Videos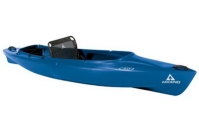 Ascend A10 Fishing Kayak Review
The redesigned A10 Sit-In Kayak delivers increased performance out on the water at an improved value. Designed to meet the needs of all kayakers at an affordable price, the A10 starts with an advanced tunnel hull design for maximum stability and ease of paddling. The upgraded Removable Seating system delivers all day comfort on the […]
Specifications
Specification:
Ascend A10
| | |
| --- | --- |
| Best Use | Inshore, Lakes, Rivers |
| Hull Type | Rotomold |
| Kayak Type | Sit In |
| Length (Ft-In) | 9' 10 |
| Max Capacity (lbs) | 300 |
| Width (inches) | 29 |
| Seats | 1 |
| Weight (lbs) | 50 |