Product is rated as #8 in category Ascend
| | |
| --- | --- |
| Comfort | 7 |
| Durability | 8 |
| Portage | 8.5 |
| Speed | 8 |
| Stability | 7 |
More Information
Designed for fishing-minded kayakers, the Ascend FS12 Sit In Angler Kayak is a comfortable, high performance kayak packed with features for serious anglers. This specially designed 12′ kayak starts with a custom crafted tunnel hull that delivers improved static and dynamic lateral stability to allow an angler to stand up and fish with confidence!
This specialized hull design also provides solid directional tracking for easy paddling and increased speed, excellent load carrying ability, and good reserve buoyancy, as well as longitudinal damping of any pitch motion in heavier waves. Made of custom crafted neoprene and heavy duty materials, the FS12's steel-frame, removable seating system delivers maximum comfort and durability in the kayak, on the shore, or wherever it's used.
With an upgraded Ascend heavy duty, full tackle rod tender on the starboard side and rod holders behind the seat, the FS12 offers anglers lots of options to stow different setups. The large capacity, deep molded stern storage area features molded landings designed to safely haul a five gallon bucket, milk crate, or sealed battery. Its removable and fully adjustable cargo bungee cover makes it easy to transport all types of gear in the stern well. The deep molded bow tankwell is shaped to fit most dry bags, protecting them with a removable storage hatch cover held tight with a quick connect tether system. The FS12 also offers a unique  screw-out deck plate right in front of the cockpit for easy access to a storage pouch for your wallet, keys, phone, iPod' and like items.
Finally, this capable kayak comes with a fully adjustable anchor system for positioning control in any lake or stream regardless of wind or current. Adjustable from bow to stern, the anchoring system includes 20′ of flotation line and a quick-cinch mesh storage bag.
---
Popular Gear & Accessories Posts
---
---
Find a Kayak Store Near You Carries the Brand You Want

---
This kayak is no longer manufactured and is only available on the used market. If you want to buy a used FS12 you can search online using Craigslist, Facebook Marketplace, and Ebay or phone apps such as Letgo or Offerup.
If you have owned a FS12, please leave a star review along with your pros and cons.
MSRP $
Used prices are generally 20% below MSRP
Ascend Fishing Kayaks FS12 Videos
Click

In Video Below For MoreAscend Fishing Kayaks FS12 Videos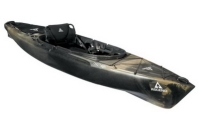 Ascend FS12 Fishing Kayak Review
Designed for fishing-minded kayakers, the Ascend FS12 Sit In Angler Kayak is a comfortable, high performance kayak packed with features for serious anglers. This specially designed 12′ kayak starts with a custom crafted tunnel hull that delivers improved static and dynamic lateral stability to allow an angler to stand up and fish with confidence! This […]
Specifications
Specification:
Ascend FS12
| | |
| --- | --- |
| Best Use | Inshore, Lakes, Rivers |
| Hull Type | Rotomold |
| Kayak Type | Sit In |
| Length (Ft-In) | 12' |
| Max Capacity (lbs) | 350 |
| Width (inches) | 29 |
| Seats | 1 |
| Weight (lbs) | 88 |