Is it OK to buy a fishing kayak online?
Buying a kayak online is like buying anything online. Will you like it? Can you return it? Is it what you really want? Yes, it is ok to buy a kayak online but be sure you know what you want first. Kayaks are shipped wrapped in padding and doing as much as they can to be sure they aren't damaged. If you buy a kayak from an online retailer be sure to unwrap your kayak as soon as possible to check for damage. If you have to sign for it, don't until you unwrap it and inspect it for damage. If damaged, don't accept it and have the delivery person take it back with them.

Should I buy a trailer for my fishing kayak?
Are you good at driving with a trailer? If not, consider other using a bed extender or roof racks. If you are comfortable driving with a trailer, having one for your kayak makes it easier to load and travel with.
Kayak trailers make launching from a boat ramp easier as well as launching from places with enough room for backing up a trailer to the water.
Kayak trailers will cost anywhere from $600 and up depending whether it is aluminum, steel, or galvanized steel and how many kayaks it is designed to carry. Try to get one with a long trailer extension. Shorter trailers are much harder to back up with than longer ones.
If you're trailering your kayak, do not leave anything in it that can fall out. You kayak is going to bounce a lot once on the road and anything that may fall out or vibrate out will.
Do you fish with live bait? Do you need a live well? Live wells are popular for people who like to use live bait and there are live wells designed for kayaks. Depending on the size live well you are going to be adding weight to your kayak. Be sure to plan accordingly.
Which roof racks should I buy for my fishing kayaks?
Most people travel with their kayaks using roof racks. Even people with trailers modify them with roof racks. Depending upon the type of kayak you have, you may also want to use J bars. Either way, be sure to secure your kayaks in three ways. Tie down your kayaks to your roof rack and through your windows as well as a front and rear tie down to keep the kayaks from sliding off the front or rear of your vehicles.
If you are in the market for roof racks, there are several brands to choose from. Be sure to look for brands and styles that fit your vehicle. If you have any reservations, let a professional install them for you. Remember, that roof racks have weight limitations. If you are loading up your roof racks with multiple kayaks be sure that you secure them to the roof racks and then strap the entire thing through your windows as an extra precaution.
It can be hard for people to load kayaks upon the roof rack. If you have a hard time putting kayaks on a roof rack, consider a Thule Hellavator or other kayak roof rack systems that makes it easier to life the kayaks up onto the vehicle.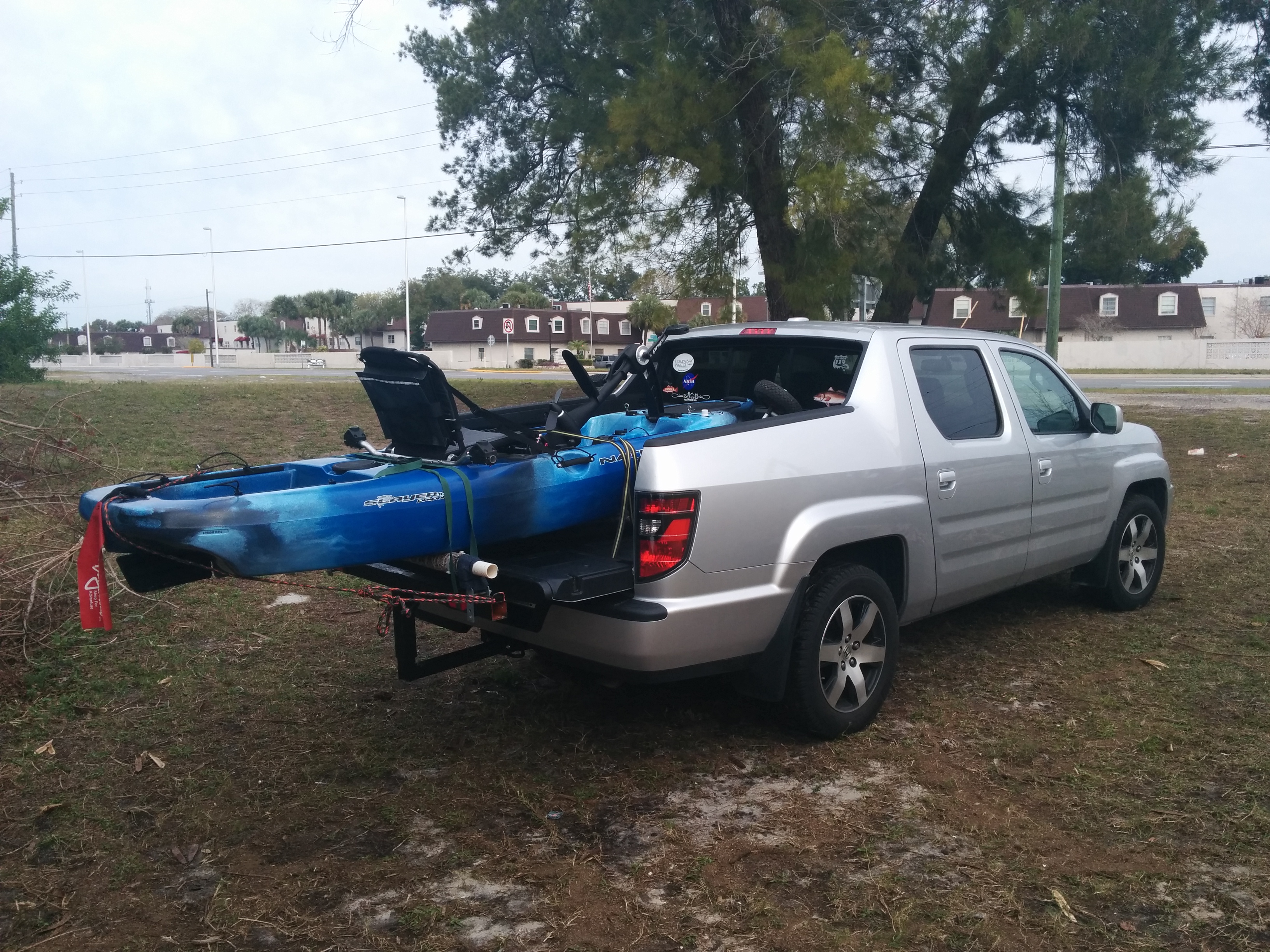 Should I buy a bed extender for my fishing kayak?
If you have a pickup or suv with a hatch that lifts up, a bed extender is a 'must-have'. Be sure to get one with a bend so you won't drag it on the ground when pulling in and out of driveways, etc. Boonedox makes a great aluminum bed extender that is lightweight and won't rust. If you don't want to spend the money, there are several low-cost bed extenders on Amazon that have free shipping or are included with an Amazon Prime membership.
Time to upgrade… Selling your fishing kayak!
Check out the Guide to Selling Your Kayak.