Wilderness Systems Commander 120 Angler

| | |
| --- | --- |
| Comfort | 8.5 |
| Durability | 10 |
| Portage | 8.5 |
| Speed | 8.5 |
| Stability | 8.5 |
More Information
---
Popular Gear & Accessories Posts
---
Find a Kayak Store Near You Carries the Brand You Want

---
This kayak is no longer manufactured and is only available on the used market. If you want to buy a used Commander 120 Angler you can search online using Craigslist, Facebook Marketplace, and Ebay or phone apps such as Letgo or Offerup.
If you have owned a Commander 120 Angler, please leave a star review along with your pros and cons.
MSRP $
Used prices are generally 20% below MSRP
Kayak fishing just received an infusion of comfort with the Wilderness Systems Commander 120, a kayak/canoe hybrid that pushes kayaking to a whole new level. Combining the agility and superb paddling experience of a kayak, with the stability, capacity and comfort of a canoe, the Wilderness Systems Commander 120 is loaded with features to enhance any angler's day on the water. The AirPro Freedom Elite kayak seat combines a Captain's Seat perch for a higher perspective and the ultimate in adjustability and comfortable airflow. Discontinued model.
Wilderness Systems Commander 120 Angler Videos
The provided API key has an IP address restriction. The originating IP address of the call (208.109.60.1) violates this restriction.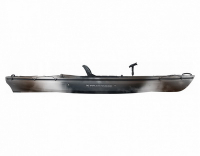 Wilderness Systems Commander 120 Angler Review
Kayak fishing just received an infusion of comfort with the Wilderness Systems Commander 120, a kayak/canoe hybrid that pushes kayaking to a whole new level. Combining the agility and superb paddling experience of a kayak, with the stability, capacity and comfort of a canoe, the Wilderness Systems Commander 120 is loaded with features to enhance […]
Specifications
Specification:
Wilderness Systems Commander 120 Angler
| | |
| --- | --- |
| Best Use | Inshore, Lakes, Rivers |
| Hull Type | Rotomold |
| Kayak Type | Sit on Top |
| Length (Ft-In) | 12' |
| Max Capacity (lbs) | 400 |
| Width (inches) | 30.25 |
| Seats | 1 |
| Weight (lbs) | 66 |