Wilderness Systems A.T.A.K. 140

| | |
| --- | --- |
| Comfort | 10 |
| Durability | 10 |
| Portage | 7 |
| Speed | 8 |
| Stability | 10 |

Wilderness Systems A.T.A.K. 140
More Information
---
Popular Gear & Accessories Posts
---
Find a Kayak Store Near You Carries the Brand You Want

---
MSRP $1849
Used Price Range - $ - $1675
Featuring an open design that can be customized to meet the demands of any kayak fisherman and environment. The deck is highly walkable and stable, yet remains nimble and stealth. The low-profile, wind-shedding hull will keep you on the water longer, and endless storage opportunities are intelligently located throughout. The AirPro MAX* seat shows up in a big way, now with extended travel along much of the length of the craft. Top it off with Flex Pod OS electronics console and Helix MDTM Motor Drive compatibility, and the fish don't stand a chance.
Wilderness Systems A.T.A.K. 140 Videos
The provided API key has an IP address restriction. The originating IP address of the call (208.109.60.1) violates this restriction.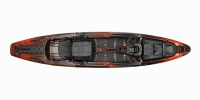 Wilderness Systems A.T.A.K. 140 Review
Featuring an open design that can be customized to meet the demands of any kayak fisherman and environment. The deck is highly walkable and stable, yet remains nimble and stealth. The low-profile, wind-shedding hull will keep you on the water longer, and endless storage opportunities are intelligently located throughout. The AirPro MAX* seat shows up […]
Specifications
Specification:
Wilderness Systems A.T.A.K. 140
| | |
| --- | --- |
| Best Use | Inshore, Lakes, Rivers |
| Hull Type | Rotomold |
| Kayak Type | Sit on Top |
| Length (Ft-In) | 14' 1' |
| Max Capacity (lbs) | 550 |
| Width (inches) | 34 |
| Seats | 1 |
| Weight (lbs) | 95 |
| MSRP ($) | 1849 |