Wilderness Systems A.T.A.K. 120

| | |
| --- | --- |
| Comfort | 10 |
| Durability | 10 |
| Portage | 7 |
| Speed | 8 |
| Stability | 10 |

Wilderness Systems A.T.A.K. 120
More Information
---
Popular Gear & Accessories Posts
---
Find a Kayak Store Near You Carries the Brand You Want

---
MSRP $1849
Used Price Range - $ - $1675
The award-winning design of the A.T.A.K. 140 is now available in a compact package for increased manageability both on-and-off the water. The A.T.A.K. 120 is a continuation of the 140, maintaining all the core attributes that have set a new standard for fishing kayaks – an open customizable platform, unmatched stability, and a wind-shedding deck – yet the 120 brings an entirely new set of specialized performance attributes to the table. Rocker has been increased to better negotiate moving water, a secondary transducer scupper has been added to accommodate electronics (including side-scanning technologies) while utilizing the Helix MD Motor Drive, a new quick-release cam lever now allows the AirPro MAX seat to be adjusted fore/aft on-the-fly, and much more.
Wilderness Systems A.T.A.K. 120 Videos
The provided API key has an IP address restriction. The originating IP address of the call (208.109.60.1) violates this restriction.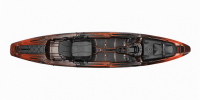 Wilderness Systems A.T.A.K. 120 Review
The award-winning design of the A.T.A.K. 140 is now available in a compact package for increased manageability both on-and-off the water. The A.T.A.K. 120 is a continuation of the 140, maintaining all the core attributes that have set a new standard for fishing kayaks – an open customizable platform, unmatched stability, and a wind-shedding deck […]
Specifications
Specification:
Wilderness Systems A.T.A.K. 120
| | |
| --- | --- |
| Best Use | Inshore, Lakes, Rivers |
| Hull Type | Rotomold |
| Kayak Type | Sit on Top |
| Length (Ft-In) | 12.3 |
| Max Capacity (lbs) | 400 |
| Width (inches) | 35 |
| Seats | 1 |
| Weight (lbs) | 86 |
| MSRP ($) | 1849 |