Product is rated as #2 in category Viking
| | |
| --- | --- |
| Comfort | 8.5 |
| Durability | 9 |
| Portage | 10 |
| Speed | 8 |
| Stability | 8.5 |

More Information
---
Popular Gear & Accessories Posts
---
Find a Kayak Store Near You Carries the Brand You Want

---
MSRP $1699
Used Price Range - $ - $1525
"The Profish 400 Lite sets comfort, performance, and stability benchmarks for all fishing kayaks. Matt Watson of the ITM fishing show chose the Profish 400 due to it's light weight and manoeuvrability.
Filling the "mid-size" category the Profish 400 takes Vikings incredibly robust design and wraps it in a package weighing just 24kg (unruddered) without compromising our 30 year hull warranty*.
Brass inserts have been moulded into the hull to make fitting accessories such as adjustable rod holders and anchor lines (running rigs) a breeze.
Take a walk through the Profish 400 Lite and all its features in the video below.
The cockpit has been ergonomically designed for greater comfort for paddlers of all sizes while still allowing the use of a variety of seating options for a truly custom fit.
The sides have been scalloped to allow greater paddling efficiency while allowing maximum stability for all paddlers from those new to the sport discovering kayaking for the first time to the expert targeting trophy fish in big water.
Choose the Profish 400 Lite if you're looking for a serious paddling and fishing kayak offering the ultimate in comfort and features that's light and easy to manage both on and off the water."
Viking Profish 400 Videos
The provided API key has an IP address restriction. The originating IP address of the call (208.109.60.1) violates this restriction.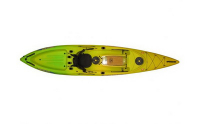 Viking Profish 400 Review
"The Profish 400 Lite sets comfort, performance, and stability benchmarks for all fishing kayaks. Matt Watson of the ITM fishing show chose the Profish 400 due to it's light weight and manoeuvrability. Filling the "mid-size" category the Profish 400 takes Vikings incredibly robust design and wraps it in a package weighing just 24kg (unruddered) without […]
Specifications
Specification:
Viking Profish 400
| | |
| --- | --- |
| Best Use | Inshore, Lakes, Rivers |
| Hull Type | Rotomold |
| Kayak Type | Sit on Top |
| Length (Ft-In) | 13.45' |
| Max Capacity (lbs) | 385 |
| Width (inches) | 30.75 |
| Seats | 1 |
| Weight (lbs) | 53 |
| MSRP ($) | 1699 |