Perception Pescador Pilot 12

| | |
| --- | --- |
| Comfort | 8.5 |
| Durability | 9 |
| Portage | 9 |
| Speed | 9 |
| Stability | 8.5 |
More Information
---
Popular Gear & Accessories Posts
---
Find a Kayak Store Near You Carries the Brand You Want

---
MSRP $
Used prices are generally 20% below MSRP
The Perception Pescador Pilot 12.0 kayak's superior stability and fishing performance make it the ultimate boat for paddlers of all abilities. The Pilot Drive propeller system effortlessly propels the boat, even in reverse, while leaving both hands free. The spacious, sit-on-top design with generous storage and accessory mounts makes the kayak easy to customize. Ultimate comfort is thanks to a mesh chair with forwards/backwards adjustment so you can pedal in the most natural position possible.
Perception Kayaks Pescador Pilot 12 Videos
The provided API key has an IP address restriction. The originating IP address of the call (208.109.60.1) violates this restriction.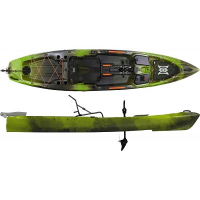 Perception Pescador Pilot 12 Review
The Perception Pescador Pilot 12.0 kayak's superior stability and fishing performance make it the ultimate boat for paddlers of all abilities. The Pilot Drive propeller system effortlessly propels the boat, even in reverse, while leaving both hands free. The spacious, sit-on-top design with generous storage and accessory mounts makes the kayak easy to customize. Ultimate […]
Specifications
Specification:
Perception Pescador Pilot 12
| | |
| --- | --- |
| Best Use | Inshore, Lakes, Rivers |
| Hull Type | Rotomold |
| Kayak Type | Sit on Top |
| Length (Ft-In) | 12' |
| Max Capacity (lbs) | 475 |
| Width (inches) | 33.75 |
| Seats | 1 |
| Weight (lbs) | 85 |
| Propulsion Options | Pedal |