Ocean Kayaks Trident Ultra 4.7

| | |
| --- | --- |
| Comfort | 8.5 |
| Durability | 10 |
| Portage | 7 |
| Speed | 9 |
| Stability | 7 |

Ocean Kayaks Trident Ultra 4.7
More Information
---
Popular Gear & Accessories Posts
---
Find a Kayak Store Near You Carries the Brand You Want

---
MSRP $1899.99
Used Price Range - $ - $1700
The Trident Ultra 4.7 is a collaboration between our designers and an international group of dedicated professional kayak anglers. Based on the Trident 15 and crafted around the original Prowler hull, the Ultra 4.7 incorporates more volume across the bow for a drier ride, a moderate rocker to help performance in ocean swells and a more pronounced tail fin to aid in tracking. The easy to rotate center hatch cover is a must see!
Ocean Kayaks Trident Ultra 4.7 Videos
The provided API key has an IP address restriction. The originating IP address of the call (208.109.60.1) violates this restriction.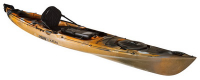 Ocean Kayaks Trident Ultra 4.7 Review
The Trident Ultra 4.7 is a collaboration between our designers and an international group of dedicated professional kayak anglers. Based on the Trident 15 and crafted around the original Prowler hull, the Ultra 4.7 incorporates more volume across the bow for a drier ride, a moderate rocker to help performance in ocean swells and a […]
Specifications
Specification:
Ocean Kayaks Trident Ultra 4.7
| | |
| --- | --- |
| Best Use | Inshore, Lakes, Rivers |
| Hull Type | Rotomold |
| Kayak Type | Sit on Top |
| Length (Ft-In) | 15' 5 |
| Max Capacity (lbs) | 450 |
| Width (inches) | 29.1 |
| Seats | 1 |
| Weight (lbs) | 87 |
| MSRP ($) | 1899.99 |