Ocean Kayaks Tetra 10 Angler

| | |
| --- | --- |
| Comfort | 8.5 |
| Durability | 9 |
| Portage | 10 |
| Speed | 8.5 |
| Stability | 7 |

Ocean Kayaks Tetra 10 Angler
More Information
---
Popular Gear & Accessories Posts
---
Find a Kayak Store Near You Carries the Brand You Want

---
MSRP $849.99
Used Price Range - $ - $725
Looking for a fishing kayak that is easy to store and easy to transport? The Tetra 10 Angler is a great choice. Perfect for those with a small to medium-build, the Tetra 10 Angler features a small Modular Fishing Pod (Mod Pod II) in the center console, two flush mount rod holders and the unique Comfort Hybrid seat back.
Ocean Kayaks Tetra 10 Angler Videos
The provided API key has an IP address restriction. The originating IP address of the call (208.109.60.1) violates this restriction.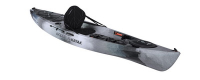 Ocean Kayaks Tetra 10 Angler Review
Looking for a fishing kayak that is easy to store and easy to transport? The Tetra 10 Angler is a great choice. Perfect for those with a small to medium-build, the Tetra 10 Angler features a small Modular Fishing Pod (Mod Pod II) in the center console, two flush mount rod holders and the unique […]
Specifications
Specification:
Ocean Kayaks Tetra 10 Angler
| | |
| --- | --- |
| Best Use | Inshore, Lakes, Rivers |
| Hull Type | Rotomold |
| Kayak Type | Sit on Top |
| Length (Ft-In) | 10' 8 |
| Max Capacity (lbs) | 275 |
| Width (inches) | 29.5 |
| Seats | 1 |
| Weight (lbs) | 50 |
| MSRP ($) | 849.99 |