Product is rated as #1 in category NuCanoe
| | |
| --- | --- |
| Comfort | 9.5 |
| Durability | 10 |
| Portage | 10 |
| Speed | 8 |
| Stability | 10 |
---
Popular Gear & Accessories Posts
---
Find a Kayak Store Near You Carries the Brand You Want

---
MSRP $699
Used Price Range - $ - $550

More Information
---
Popular Gear & Accessories Posts
---
Find a Kayak Store Near You Carries the Brand You Want

---
MSRP $699
Used Price Range - $ - $550
NuCanoe boats combine safety, stability and fun to provide the best experience on the water! NuCanoe Classic's unique hybrid design is virtually unsinkable and not tippy, providing comfort for passengers and peace of mind for you. Kids of all ages can paddle it with ease, no technical skill is required. The NuCanoe Classic can be used solo, tandem, or triple, and are great in lakes, rivers, and bays. Best of all, kids are comfortable and confident on NuCanoe boats, ensuring they will have fun, be safe, and enjoy their experience!
NuCanoe Classic 10 Videos
The provided API key has an IP address restriction. The originating IP address of the call (208.109.60.1) violates this restriction.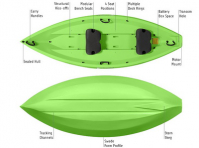 NuCanoe Classic 10 Fishing Kayak Review
NuCanoe boats combine safety, stability and fun to provide the best experience on the water! NuCanoe Classic's unique hybrid design is virtually unsinkable and not tippy, providing comfort for passengers and peace of mind for you. Kids of all ages can paddle it with ease, no technical skill is required. The NuCanoe Classic can be […]
Specifications
Specification:
NuCanoe Classic 10
| | |
| --- | --- |
| Best Use | Inshore, Lakes, Rivers |
| Hull Type | Rotomold |
| Kayak Type | Sit on Top |
| Length (Ft-In) | 10' |
| Max Capacity (lbs) | 450 |
| Width (inches) | 42 |
| Seats | 1 |
| Weight (lbs) | 59 |
| MSRP ($) | 699 |
| Propulsion Options | Power |