Native Watercraft Ultimate 14.5 Volt
With all the comfort and convenience of an Ultimate plus the versatility of a Multisport kayak, the Ultimate 14.5 Volt is perfect for anyone who wants a small, agile watercraft that can travel quickly but is still convenient for a soloist. You can reach new distances and see unexplored areas without sacrificing the comfort of a personal watercraft.
---

---
This kayak is no longer manufactured and is only available on the used market. If you want to buy a used Ultimate 14.5 Volt you can search online using Craigslist, Facebook Marketplace, and Ebay or phone apps such as Letgo or Offerup.
If you have owned a Ultimate 14.5 Volt, please leave a star review along with your pros and cons.
MSRP $
Used Price Range - $ - $1500
Native Watercraft Ultimate 14.5 Volt Videos
Local Fishing Kayak Stores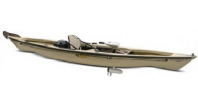 Native Watercraft Ultimate 14.5 Volt Review
With all the comfort and convenience of an Ultimate plus the versatility of a Multisport kayak, the Ultimate 14.5 Volt is perfect for anyone who wants a small, agile watercraft that can travel quickly but is still convenient for a soloist. You can reach new distances and see unexplored areas without sacrificing the comfort of […]
Specification:
Native Watercraft Ultimate 14.5 Volt
| | |
| --- | --- |
| Best Use | Inshore, Lakes, Rivers |
| Hull Type | Rotomold |
| Kayak Type | Hybrid |
| Length (Ft-In) | 14' 7 |
| Max Capacity (lbs) | 68 |
| Width (inches) | 30 |
| Seats | 1 |
| Weight (lbs) | 450 |