Native Watercraft Ultimate 14.5 Volt

| | |
| --- | --- |
| Comfort | 8.5 |
| Durability | 9.5 |
| Portage | 8.5 |
| Speed | 9.5 |
| Stability | 9 |
More Information
---
Popular Gear & Accessories Posts
---
Find a Kayak Store Near You Carries the Brand You Want

---
This kayak is no longer manufactured and is only available on the used market. If you want to buy a used Ultimate 14.5 Volt you can search online using Craigslist, Facebook Marketplace, and Ebay or phone apps such as Letgo or Offerup.
If you have owned a Ultimate 14.5 Volt, please leave a star review along with your pros and cons.
MSRP $
Used Price Range - $ - $1500
With all the comfort and convenience of an Ultimate plus the versatility of a Multisport kayak, the Ultimate 14.5 Volt is perfect for anyone who wants a small, agile watercraft that can travel quickly but is still convenient for a soloist. You can reach new distances and see unexplored areas without sacrificing the comfort of a personal watercraft.
Native Watercraft Ultimate 14.5 Volt Videos
The provided API key has an IP address restriction. The originating IP address of the call (208.109.60.1) violates this restriction.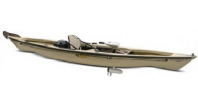 Native Watercraft Ultimate 14.5 Volt Review
With all the comfort and convenience of an Ultimate plus the versatility of a Multisport kayak, the Ultimate 14.5 Volt is perfect for anyone who wants a small, agile watercraft that can travel quickly but is still convenient for a soloist. You can reach new distances and see unexplored areas without sacrificing the comfort of […]
Specifications
Specification:
Native Watercraft Ultimate 14.5 Volt
| | |
| --- | --- |
| Best Use | Inshore, Lakes, Rivers |
| Hull Type | Rotomold |
| Kayak Type | Hybrid |
| Length (Ft-In) | 14' 7 |
| Max Capacity (lbs) | 68 |
| Width (inches) | 30 |
| Seats | 1 |
| Weight (lbs) | 450 |