Hurricane Skimmer Angler DLX 116

| | |
| --- | --- |
| Comfort | 8.5 |
| Durability | 8.5 |
| Portage | 8.5 |
| Speed | 9 |
| Stability | 8.5 |
More Information
We say fishing kayaks, and you think what? A bathtub with cup holders? A boat with the performance attributes of cement? Time to change your thought processes. Hurricane fishing kayaks are so light you can actually carry them to the launch by hand (no cumbersome cart required), and no other fishing kayaks will load as easily onto your roof racks. Completely rigged with an anchor trolley and 3-lb anchor, our Skimmer 140 DLX Angler weighs in at only 58 lbs, and that's quite a difference from the 70-80 lbs monsters our competition offers.
---
Popular Gear & Accessories Posts
---
---
Find a Kayak Store Near You Carries the Brand You Want

---
This kayak is no longer manufactured and is only available on the used market. If you want to buy a used Angler DLX 116 you can search online using Craigslist, Facebook Marketplace, and Ebay or phone apps such as Letgo or Offerup.
If you have owned a Angler DLX 116, please leave a star review along with your pros and cons.
MSRP $
Used prices are generally 20% below MSRP
Hurricane Angler DLX 116 Videos
Click

In Video Below For MoreHurricane Angler DLX 116 Videos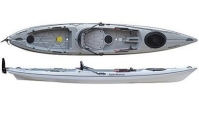 Hurricane Skimmer Angler DLX 116 Review
We say fishing kayaks, and you think what? A bathtub with cup holders? A boat with the performance attributes of cement? Time to change your thought processes. Hurricane fishing kayaks are so light you can actually carry them to the launch by hand (no cumbersome cart required), and no other fishing kayaks will load as […]
Specifications
Specification:
Hurricane Skimmer Angler DLX 116
| | |
| --- | --- |
| Best Use | Inshore, Lakes, Rivers |
| Hull Type | Thermoform |
| Kayak Type | Sit on Top |
| Length (Ft-In) | 11' 6 |
| Max Capacity (lbs) | 300 |
| Width (inches) | 30.5 |
| Seats | 1 |
| Weight (lbs) | 42 |