Reviews, Videos, Price Comparisons & More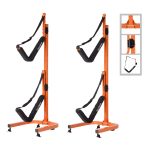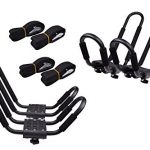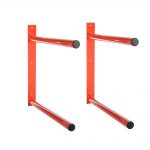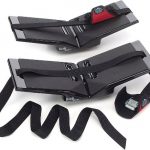 Store your kayak at home and on the road
Whatever kayak rack you get. Be sure that it fully supports the weight. You don't want to end up with a kayak that gets warped because it didn't support the middle or one end. For transporting, kayak racks need to be very secure to the vehicle or trailer and the kayaks need to be very secure to them. Cam straps are the best option but ratchet straps will work in a bind. Be careful you don't tighten them down too hard because they will warp your kayak if it gets too hot.
Store your kayak at home and on the road!
9
PROS
A place to put your kayak(s) at home or on the road
Security
Peace of mind
CONS
Not the proper size for your kayak
Not properly secured to your vehicle
Not the proper types for your kayak. Some larger kayaks won't work with J-Hooks.
Add your review
Choosing the right kayak rack is important. Be sure whatever you buy that it is the right size and supports the full length kayak properly. A kayak not properly stored in the rack may warp.
Automobile Kayak Racks
There are various types of kayak racks designed to fit on top of your car or trailer. J-Types are the most popular because they allow you to easily fit two kayaks on almost any car. Not all kayaks are designed to work with J Types. Bigger, heavier sit on top kayaks are often too large and require that you use Saddle type racks. If you are only transporting one kayak, a rack it not required as long as you have a roof rack. You can use roof rack pads and secure your kayak directly to the roof racks. Be sure to secure the straps close to the kayak so it does not slide left to right on you.
Home Storage Kayak Racks
It can be a challenge finding storage space for one or more kayaks at home. They take up a lot of space for something you may use only a few times a year. There are wall hanging types of racks, stand-alone racks, and hoist that will life your kayak up in the air. My preference are standalone racks but I have the room for them. I don't recommend hoisting your kayak if you live in areas where it gets really hot. If you are not careful where you put the hoists you can easily warp your kayak out of sharpe.
We assembled some Kayak Umbrellas that are available online to help you comparison shop. Our Deal Finder will search through multiple online stores including Amazon, Walmart, Ebay, West Marine, Academy, Gander Outdoors and more!.