Feel Free Kayaks Lure 13.5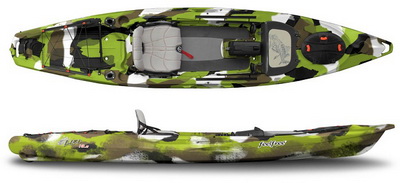 | | |
| --- | --- |
| Comfort | 10 |
| Durability | 10 |
| Portage | 7 |
| Speed | 9 |
| Stability | 10 |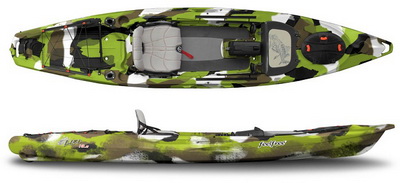 Feel Free Kayaks Lure 13.5
More Information
Feelfree Kayaks is taking kayak fishing to a new level in stability, comfort and versatility with the new 2014 Lure series. The 13.5 version is a longer, faster, extremely stable and capable of bigger water version of the Lure 11.5 and 10 designed for the kayak angler that wants it all.
The Lure 13.5 features a front multi-use console, which sits directly behind the bow hatch. The console lid features an inlaid cutting board, handy for prepping bait or cleaning fish. The lid is insulated making it an ideal container to keep your drinks, bait and even fish cool. Another key feature designed specifically for the Lure 13.5 is a removable sonar & electronic pod. The pod makes it easy to install of a fish finder and transducer without having to drill any holes into the kayak.
The kayak also comes with a variety of unique features seen on Lure series kayaks including a removable multi-level extra wide Patent Pending Gravity Seat, Feelfree's patented wheel in the keel and Uni-Track system. The Gravity Seat offers a wide range of seat heights, which is adjusted with the simple function of a lever and is removable. What really sets the Gravity Seat apart is the ability to sit flush on the deck of the kayak when additional stability and a more efficient paddling position is needed for longer distances.
The Lure's super-stable 36″ wide hull paired with an extra large padded standing platform gives you the option to paddle or cast in either the sitting or standing position whether fishing inland waters or wide open oceans. this kayak fears no water. At 13.5′ this kayak is also ideal for paddling longer distances on larger bodies of water.
---
Popular Gear & Accessories Posts
---
---
Find a Kayak Store Near You Carries the Brand You Want

---
MSRP $1399
Used Price Range - $ - $1200
Feel Free Kayaks Lure 13.5 Videos
Click

In Video Below For MoreFeel Free Kayaks Lure 13.5 Videos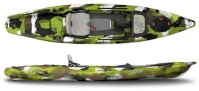 Feel Free Kayaks Lure 13.5 Review
Feelfree Kayaks is taking kayak fishing to a new level in stability, comfort and versatility with the new 2014 Lure series. The 13.5 version is a longer, faster, extremely stable and capable of bigger water version of the Lure 11.5 and 10 designed for the kayak angler that wants it all. The Lure 13.5 features […]
Specifications
Specification:
Feel Free Kayaks Lure 13.5
| | |
| --- | --- |
| Best Use | Inshore, Lakes, Rivers |
| Hull Type | Rotomold |
| Kayak Type | Sit on Top |
| Length (Ft-In) | 13' |
| Max Capacity (lbs) | 500 |
| Width (inches) | 36 |
| Seats | 1 |
| Weight (lbs) | 95 |
| MSRP ($) | 1399 |