Emotion Stealth 10 Angler

Product is rated as #5 in category Emotion
| | |
| --- | --- |
| Comfort | 7.5 |
| Durability | 8 |
| Portage | 9 |
| Speed | 8 |
| Stability | 8.5 |

Emotion Stealth 10 Angler
More Information
---
Popular Gear & Accessories Posts
---
Find a Kayak Store Near You Carries the Brand You Want

---
MSRP $549.99
Used Price Range - $ - $450
The Stealth 10 Angler Kayak is a versatile sit-on-top kayak designed for just about every water condition from lakes to slow moving rivers and creeks to beyond the surf. The ST Performance Hull provides outstanding stability, speed, and tracking in a convenient 10′ 3″ package to get to where the good fishing is. The Stealth is loaded with great features and is equipped with out Triple Threat Fishing Configuration and a contoured tankwell with New Cargo Lacing System to accommodate a milk crate, tackle box, or bait bucket.
Emotion Stealth 10 Angler Videos
The provided API key has an IP address restriction. The originating IP address of the call (208.109.60.1) violates this restriction.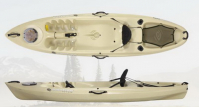 Emotion Stealth 10 Angler Review
The Stealth 10 Angler Kayak is a versatile sit-on-top kayak designed for just about every water condition from lakes to slow moving rivers and creeks to beyond the surf. The ST Performance Hull provides outstanding stability, speed, and tracking in a convenient 10′ 3″ package to get to where the good fishing is. The Stealth […]
Specifications
Specification:
Emotion Stealth 10 Angler
| | |
| --- | --- |
| Best Use | Inshore, Lakes, Rivers |
| Hull Type | Rotomold |
| Kayak Type | Sit on Top |
| Length (Ft-In) | 10' |
| Max Capacity (lbs) | 275 |
| Width (inches) | 30 |
| Seats | 1 |
| Weight (lbs) | 51 |
| MSRP ($) | 549.99 |