Product is rated as #3 in category Emotion
| | |
| --- | --- |
| Comfort | 7.5 |
| Durability | 8 |
| Portage | 9 |
| Speed | 7.5 |
| Stability | 10 |

More Information
---
Popular Gear & Accessories Posts
---
Find a Kayak Store Near You Carries the Brand You Want

---
MSRP $499.99
Used Price Range - $ - $400
The Renegade XT Kayak is a user-friendly sit-on-top kayak that accommodates larger paddlers with comfort and stability. It features a spacious tankwell with cargo net lacing that is big enough for a small child or a dog to ride in. The solid and supportive backrest along with the removable seat provide all day comfort. The integral stern and side handles make carrying the kayak to and from the waterfront easy for everyone. This model comes standard with 2 rod holders and a Solace Hatch for below deck storage. the Renegade has the versatility, handling and speed to perform in all types of conditions.
Emotion Renegade XT Videos
The provided API key has an IP address restriction. The originating IP address of the call (208.109.60.1) violates this restriction.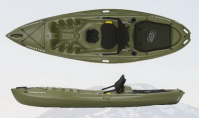 Emotion Renegade XT Review
The Renegade XT Kayak is a user-friendly sit-on-top kayak that accommodates larger paddlers with comfort and stability. It features a spacious tankwell with cargo net lacing that is big enough for a small child or a dog to ride in. The solid and supportive backrest along with the removable seat provide all day comfort. The […]
Specifications
Specification:
Emotion Renegade XT
| | |
| --- | --- |
| Best Use | Inshore, Lakes, Rivers |
| Hull Type | Rotomold |
| Kayak Type | Sit on Top |
| Length (Ft-In) | 10' |
| Max Capacity (lbs) | 325 |
| Width (inches) | 36 |
| Seats | 1 |
| Weight (lbs) | 49 |
| MSRP ($) | 499.99 |