Product is rated as #1 in category Crescent
| | |
| --- | --- |
| Comfort | 8 |
| Durability | 7 |
| Portage | 9.5 |
| Speed | 7 |
| Stability | 10 |

More Information
---
Popular Gear & Accessories Posts
---
Find a Kayak Store Near You Carries the Brand You Want

---
MSRP $649
Used Price Range - $ - $525
The Splash II Angler includes a full outfitting of fishing accessories interior rod tubes, universal accessory mounts, paddle straps and adjustable rod holders. The design offers extra room for the solo angler, or the ability to fish with a partner. With all the included accessories along with Crescent Kayaks' trademark superior durability and affordable price point, the Splash II Angler is the best value for kayak anglers on the market, as well as an excellent choice for anyone serious about the sport of kayak fishing.
Crescent Splash II Videos
The request is missing a valid API key.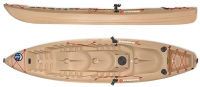 Crescent Splash II Review
The Splash II Angler includes a full outfitting of fishing accessories interior rod tubes, universal accessory mounts, paddle straps and adjustable rod holders. The design offers extra room for the solo angler, or the ability to fish with a partner. With all the included accessories along with Crescent Kayaks' trademark superior durability and affordable price […]
Specifications
Specification:
Crescent Splash II
| | |
| --- | --- |
| Best Use | Inshore, Lakes, Rivers |
| Hull Type | Rotomold |
| Kayak Type | Sit on Top |
| Length (Ft-In) | 12'4 |
| Max Capacity (lbs) | 500 |
| Width (inches) | 34 |
| Seats | 1 |
| Weight (lbs) | 69 |
| MSRP ($) | 649 |