Product is rated as #5 in category Viking
| | |
| --- | --- |
| Comfort | 8.5 |
| Durability | 9 |
| Portage | 8.5 |
| Speed | 8.5 |
| Stability | 2 |

More Information
"Our Viking Profish 440 continues to set the standard for fishing kayaks. This is the kayak used by NZ's most well known kayak fishing expert, Stephen Tapp.
The upgraded Profish 440, incorporating new Viking technology, has arrived. Enhanced with harder materials and lighter weight this serious fishing kayak comes with a market leading configuration as standard to suit the serious kayak angler.
Take a complete walk through the Profish 440 and all its features in the below video.
The Profish 440 Evolution IV is the only kayak on the market to offer such a comprehensive range of features and technology to accommodate practically every fishing style.
Choose the Profish 440 if you're looking for the ultimate combination of speed, stealth (no hull slap), stability, and versatility wrapped up in a package that's lighter in weight and has the features to deliver a great fishing experience!"
---
Popular Gear & Accessories Posts
---
---
Find a Kayak Store Near You Carries the Brand You Want

---
This kayak is no longer manufactured and is only available on the used market. If you want to buy a used Profish 440 you can search online using Craigslist, Facebook Marketplace, and Ebay or phone apps such as Letgo or Offerup.
If you have owned a Profish 440, please leave a star review along with your pros and cons.
MSRP $1999
Used Price Range - $ - $1800
Viking Profish 440 Videos
Click

In Video Below For MoreViking Profish 440 Videos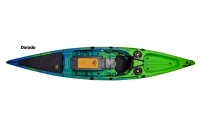 Viking Profish 440 Review
"Our Viking Profish 440 continues to set the standard for fishing kayaks. This is the kayak used by NZ's most well known kayak fishing expert, Stephen Tapp. The upgraded Profish 440, incorporating new Viking technology, has arrived. Enhanced with harder materials and lighter weight this serious fishing kayak comes with a market leading configuration as […]
Specifications
Specification:
Viking Profish 440
| | |
| --- | --- |
| Best Use | Inshore, Lakes, Rivers |
| Hull Type | Rotomold |
| Kayak Type | Sit on Top |
| Length (Ft-In) | 14.33' |
| Max Capacity (lbs) | 396 |
| Width (inches) | 20.25 |
| Seats | 1 |
| Weight (lbs) | 66 |
| MSRP ($) | 1999 |