Product is rated as #2 in category Eddyline
| | |
| --- | --- |
| Comfort | 9.5 |
| Durability | 9 |
| Portage | 8.5 |
| Speed | 9 |
| Stability | 9 |

More Information
The C-135 offers the serious kayak fisherman a lightweight alternative to the heavy polyethylene rigs currently plying the back waters. Its performance benefits from the Eddyline legacy of design. Acceleration is quick, and just a few strokes will bring you up to speed. Well balanced and easy to handle in wind, this kayak is very stable, as confirmed by Pro Fisherman Charlie LaBar. The C135 is the most stable platform I have ever fished from in the10 years that I have been kayak fishing. The hatches and tankwell are easy to reach from the cockpit and the deck platform is abundant when the seat is flipped up.
The C-135 sets a new standard in the industry with the luxurious Cloud 10 Seating System offering 4 seating positions for comfort: High Forward, High Back, Low, Reclined and can be folded back out of the way when standing. It can also be removed from the boat. The Cloud 10 Seat provides durable, breathable, water and sun proof comfort for those long days on the water.
Featuring YakAttack's new GTTL top loading GearTrac, the C-135 has also been designed to accept a variety of trolling motors, stakeout poles and various aftermarket accessories including a casting bar. It sports an open concept floor plan with the stability to stand as needed for precise casting.
The C-135 is a basic platform ready for the angler to rig to his specific needs or the casual paddler looking for maximum stability and comfort. Our expanded menu of factory installed options allows you to customize to your heart's content.
The C-135 YakAttack Edition won Best Boat and Best of Show at ICAST 2015, the largest sport fishing trade show in the world.
http://www.kayakfishmag.com/featured-catch/eddyline-c135-icast-best-of-show/
---
Popular Gear & Accessories Posts
---
---
Find a Kayak Store Near You Carries the Brand You Want

---
MSRP $2199
Used Price Range - $ - $1975
Eddyline C 135 Videos
Click

In Video Below For MoreEddyline C 135 Videos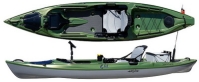 Eddyline C 135 Review
The C-135 offers the serious kayak fisherman a lightweight alternative to the heavy polyethylene rigs currently plying the back waters. Its performance benefits from the Eddyline legacy of design. Acceleration is quick, and just a few strokes will bring you up to speed. Well balanced and easy to handle in wind, this kayak is very […]
Specifications
Specification:
Eddyline C 135
| | |
| --- | --- |
| Best Use | Inshore, Lakes, Rivers |
| Hull Type | Thermoform |
| Kayak Type | Sit on Top |
| Length (Ft-In) | 13' 5 |
| Max Capacity (lbs) | 450 |
| Width (inches) | 34 |
| Seats | 1 |
| Weight (lbs) | 69 |
| MSRP ($) | 2199 |